HOTEL ROOMS
Ratchadapisek Road, Din Daeng, Bangkok, 10400, Thailand
Room Type
Regular season
High season
Superior Room (no breakfast)

Details

Superior Room (With breakfast)

Details

Deluxe Double Bed / Twin Bed (no breakfast)

Details

Deluxe Double Bed / Twin Bed (with breakfast)

Details

Deluxe Double Bed with Sofa Bed (no breakfast)

Details

Deluxe Double Bed with Sofa Bed (with breakfast)

Details

Suite Twin Bed (4 Person - no breakfast)

Details

Suite Twin Bed (2 Person with breakfast)

Details

Suite Twin Bed (4 Person with breakfast)

Details

Family Suite Room (no breakfast)

Details

Family Suite Room (with breakfast)

Details
All Room Types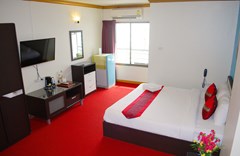 Superior Room (no breakfast)
2 Guests
Fitness
Queen size bed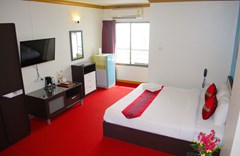 Superior Room (With breakfast)
2 Guests
Including breakfast
Queen size bed
Deluxe Double Bed / Twin Bed (no breakfast)
2 Guests
King size bed or twin beds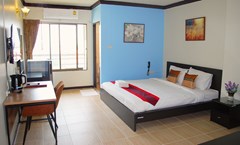 Deluxe Double Bed / Twin Bed (with breakfast)
2 Guests
Including breakfast
King size bed or twin beds
Double beds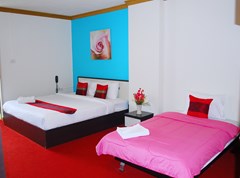 Deluxe Double Bed with Sofa Bed (no breakfast)
3 Guests
King size bed & sofa bed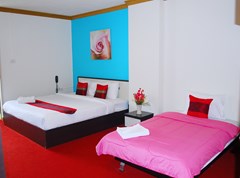 Deluxe Double Bed with Sofa Bed (with breakfast)
3 Guests
Including breakfast
King size bed & sofa bed
Triple beds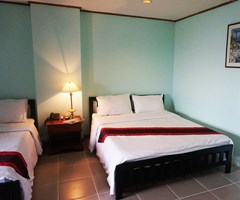 Suite Twin Bed (4 Person - no breakfast)
4 Guests
Twin queen size beds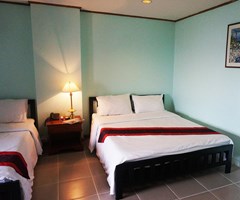 Suite Twin Bed (2 Person with breakfast)
4 Guests
Including breakfast
Twin queen size beds
Double beds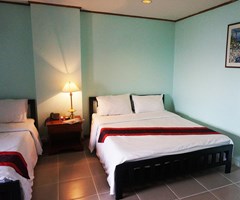 Suite Twin Bed (4 Person with breakfast)
4 Guests
Including breakfast
Twin queen size beds
Four beds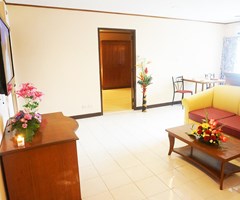 Family Suite Room (no breakfast)
4 Guests
2 Rooms + Living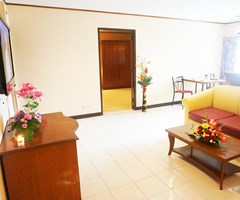 Family Suite Room (with breakfast)
4 Guests
Including breakfast
2 Rooms + Living
Four beds
Hotel Features
Facilities
bar/pub
restaurant
elevator
laundry service/dry cleaning
meeting facilities
room service
airport transfer
CCTV
poolside bar
---
Sports and Recreation
gym
spa
garden
outdoor pool
massage
sauna
---
Internet in Rooms
internet access – wireless
---
---
Witchuwan Apartel offers all guests with 49 room service apartments. The property is not just only for accommodation but it is also the best place to relaxing and enjoy while visiting Witchuwan.

Facilities include roof top swimming pool (half size of Olympic) that features salt water treatment Myth, Witchuwan Sky Fitness Center with full and modern gym equipment, sauna on the roof top, Pool Towel service, free Wi-Fi, and free Tuk Tuk router on schedule.

Services offered by Witchuwan Apartel range from 1st Witchuwan Kitchen (Thai-Western Restaurant), WISSA Massage & Spa, Sky Lounge Bar, live sport, laundry service, and convenience store.

All of the rooms boast a spectacular city view and are well equipped with modern comforts and conveniences such as bed, sofa, water boiler machine, refrigerator, hot shower, TV with satellite, free Wi-Fi, and free drinking water.